Mom's breathing, which had been labored for several hours, got shallower, and the space between breaths took longer. With my hand on her forearm, I watched her face and listened as her breathing slowed even more. In, out, pause. In, out, pause. Then in, out, longer pause. In, out, longer pause.
And then, just like that, she stopped breathing for good. I waited a few more seconds, but that was it. The last breath. And the end of a very long, incredibly painful journey through Alzheimer's disease.
That was on March 29, Good Friday. And that is why you haven't seen much going on at Ant & Anise lately. My mom, Ann, is Eve's sister. Or was, I should say. I'm not used to the past tense with her just yet.
The last few months were heavy going with Mom. You know when you're regularly at the hospital and talking with doctors about things like hospice, palliative care and intravenous fluids it's not much fun. So much energy and focus on decisions to be made. Weighty, emotional decisions.
This strange, stressful, emotionally-charged time got me thinking about comfort food, and how important it is when life gets difficult. How (like this article on the psychology of comfort food explains) it has the power to soothe and make you feel better, even if that feeling lasts for only a few fleeting moments.
And that brought me to quinoa porridge. It surprised me a little since I lean towards comfort food of the crunchy variety — the snap of a good dark chocolate and the crisp crunch of a really good potato chip…or 20. But on those dreary grey mornings before I went to the hospital (dreading the smell and sight of the hospital lunch tray), quinoa porridge was comforting. Kind of like a warm hug that I could only imagine Mom giving me now. Not that Mom was ever very huggy, but it's a nice thought.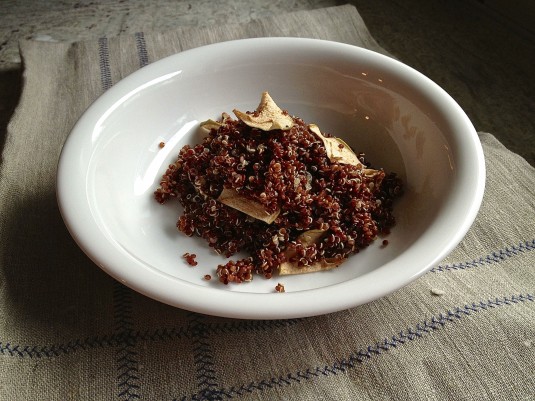 { 2 comments }